BAT FAQ

How serious is the risk of contracting rabies from bats?
Bats do carry rabies. However, the incidence of rabies in bats is much lower than in raccoons, foxes, cats or dogs. Less than 0.5 percent of bats contract rabies. Unlike other rabid animals bats do not become aggressive and die soon after contracting rabies. So the likelihood of getting rabies from a bat is very small. If you suspect exposure to the rabies virus, contact a health professional immediately. For more information about bats and rabies, visit the North Carolina Department of Health and Human Services website or the Centers for Disease Control website.

What should I do if I find a bat in my house?
Remain calm. Upsetting yourself or the bat will do neither any good. If the bat is flying around, close all doors to the room to isolate the bat in one room. Leave open one door or window to the outside to allow the bat to escape. It will usually find its way out. You may also use a butterfly net to capture a bat in flight, approaching from behind to avoid detection. If the bat is at rest, approach it quietly from behind with an inverted box, coffee can, or other such container. Place the container over the resting animal to trap it against a wall or floor. Then slide a piece of thin cardboard under the open end to contain the animal for transport outside. Although handling bats is not recommended, you also may pick it up if you are wearing leather work gloves.

How do I keep bats from getting into my house?
To eliminate—or exclude—bats from a house, you must locate their point of entry, prevent them from re-entering, and permanently seal the opening. Bats may enter houses through ungrated chimneys, small openings around plumbing, or any crack at least ¼ inch by 1½ inches. Place bird netting (found in garden centers) over their point of entry to allow bats to exit, but not re-enter. Do not exclude bats during the summer months when nursing young may be present. Once all bats have been excluded, you can seal entry points. The use of poisons to eradicate bats from houses is not recommended.

Which bats occur in North Carolina?
The following is a list of bats known to occur in North Carolina, with both common and scientific names (in parentheses). For details on North Carolina bats, see Mammals of the Carolinas, by William David Webster, Jim Parnell and Walter C. Biggs. Jr., UNC Press, 1985, available in the Museum store. You can also learn more about North Carolina bats in the Mountains to the Sea exhibit in the Museum. Source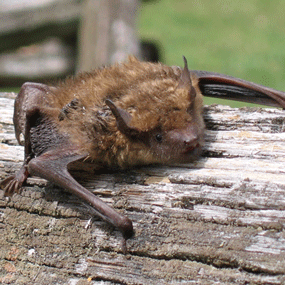 BATS: WHAT'S REALLY SCRATCHING AND DARTING AROUND IN YOUR ATTIC?