Advisory Issued For Raleigh Residents After Bat Tests Positive For Rabies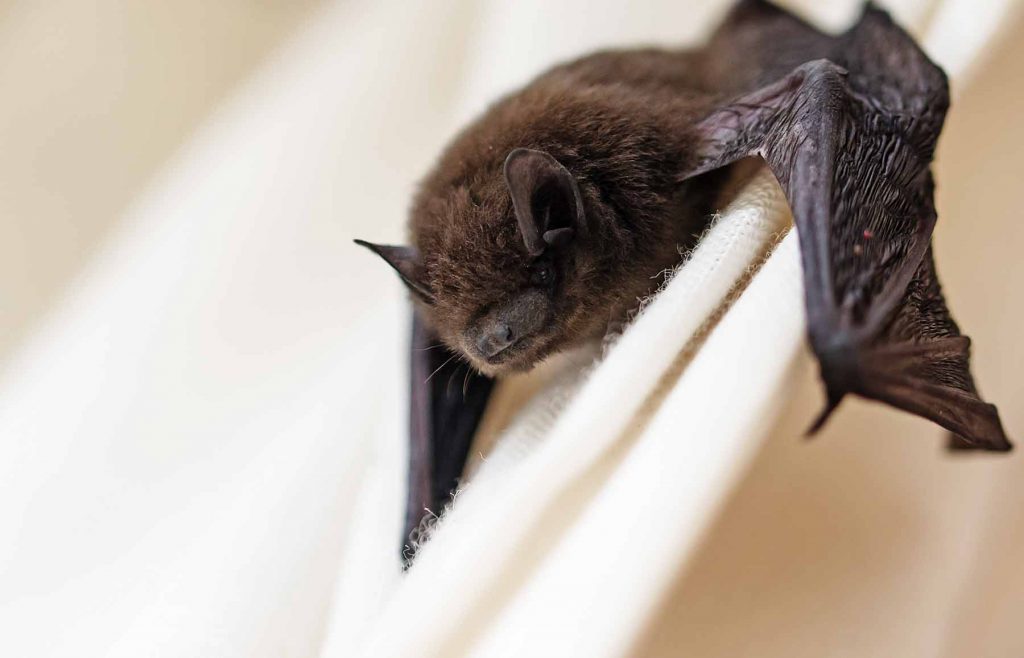 Is the bat flopping on your porch sick, or just trying to get back into the air?
Tad Bassett, of Triangle Wildlife Removal, says it's almost impossible to tell. "
When they're on the ground, they're kind of flapping around," Basset said. "It's hard to tell whether they're trying to gain altitude or having a seizure."
The only way to know for sure if a bat has rabies is to have the animal killed and tested.
That's what happened last week when a bat removed from a Raleigh home last week tested positive for the virus, according to the Raleigh Police Department.
The bat removed from Biddestone Court in Raleigh was "acting abnormally" and had come into contact with a person and two dogs. The dogs were up to date on their vaccinations, so by the law they only needed a booster shot. The person was advised about post-exposure treatment.
But bats are more likely than other animals to transmit the disease to humans, perhaps because there are so many more bats than other animals that can transmit the disease like raccoons, skunks and foxes, Bassett said.
Rabies
 attacks the brain and nervous system and is usually spread through bites and scratches. But health officials warn that deep sleepers might not even know when a bat has bitten them.
The disease can be fatal, but there is a vaccine to prevent it and effective post-exposure shots that tens of thousands of people undergo each year.
As a result, only one or two people die from rabies annually in the United States, according to the Centers for Disease Control and Prevention, and only one person has contracted 
rabies in North Carolina in the last 60 years
, according to the state health department.
To avoid rabies, experts say keep pets up to date on vaccinations, don't approach or feed unknown animals, and don't leave trash or food, including pet food, outside unless it is in a container with a tight lid.
If you come into contact with or see any animal acting strangely, call animal control.
Dangers Of Bats In The Attic
If a bat ends up inside your home, Bassett suggests trapping it until professionals arrive.
"Just use common sense," he said. "If it's in the house, put a bucket over it or something."
Bats that come into contact with humans or pets will need to be tested. If the animal can't be captured, Bassett said anyone who came into contact with the bat or with pets that may have contacted it will need to undergo post-exposure treatment for rabies.
According to the NC Wildlife Resources Commission, there are 17 species of bats in North Carolina, including three endangered and one threatened species. They are important pollinators for some plants and help control mosquitoes as well as insects that damage crops.
Bats commonly share homes with people, often moving into attics without residents knowing.
Removing them usually involves covering their entry points with a one-way door except for May through July, when bats breed and raise their young. The pups can't all fly out during this time, so removing the adults would leave the pups to starve or find another way out.
"The unforeseen consequence is that if they're trapped, they're more likely to get inside the house with you," Bassett said.
Bassett said he has more than 60 homes waiting for bat removal and around 20 bats living in the gable ends of his own house.
His solution? Live and let live.
"If they were that dangerous in the attic, the Wildlife Commission would say to get them out right away," he said.
Bassett said he does have to clean the areas inhabited by bats every year, to prevent damage from their droppings and urine, but he appreciates their function as pest control.
"They can eat thousands of mosquitoes a night, like nature's own insect control," Bassett said. "That's why I keep them around my house."
Rabies Information, Prevention and Treatment
Rabies is a preventable disease that is caused by a virus. The virus is spread to animals and people through the saliva of an infected animal. This happens most often when people or animals are exposed through bites or scratches from an infected animal.
When the rabies virus enters the body, its spreads through the nerves to the brain and spinal cord. Once rabies has attacked the brain, it is almost always fatal.
Protect yourself and your family
Stay away from animals you don't know. Teach children to do the same. "Love your own, leave others alone!" is a good rule to remember.
Report stray animals to your local animal control office.
Don't touch, keep, or feed wild animals.
Protect your pets
Make sure your pets are up to date on their vaccinations. North Carolina law requires owners of dogs, cats and ferrets to have their animals vaccinated against rabies, beginning at 4 months of age.  
Do not allow your pets to run free. Supervise them when they are outside to avoid contact with wild animals.
Call your area animal control to report stray animals; they could be unvaccinated and sick.
Spay or neuter pets. This helps to keep them from straying.
Protect your home
Don't attract wild animals–keep trash can lids on tight.
Don't leave pet food outside.
Cap chimneys and seal places animals can hide.
Call your area animal control office if you find a bat in your home. Never touch a bat. If you find a bat on the floor or ground, cover it with something until animal control arrives or tells you what to do. Call your doctor or the Wake County Human Services Communicable Disease Program at 919-250-4462 if you have been bitten or if you wake up with a bat in your room.
If you are bitten
Wash the wound well with soap and water.
Go to the doctor because treatment may be needed. There is a series of vaccines to prevent rabies for people who may have been exposed to rabies. You may also need antibiotics or a tetanus shot.
Report the bite to your area animal control office.
Report the bite to the Wake County Human Services Communicable Disease Program at 919-250-4462.
 If your pet is bitten
Put gloves on before touching your pet. Be careful, injured pets may bite.

Call your veterinarian or your area animal control office. Your pet must have a booster rabies shot within 72 hours if it is exposed to an animal that could be rabid.
WAKE COUNTY AREA ANIMAL CONTROL OFFICES
Cary​
​919-319-4517
Garner​
​919-772-8810   Ext  6979
​Holly Springs
​919-557-9111
​Raleigh
​919-831-6311
​All other places in Wake County
​919-856-6911
 More information about rabies